Customer Quote Lookup
The Customer Quote Lookup displays the Quotes or type Q sales orders that have been created for the selected customer.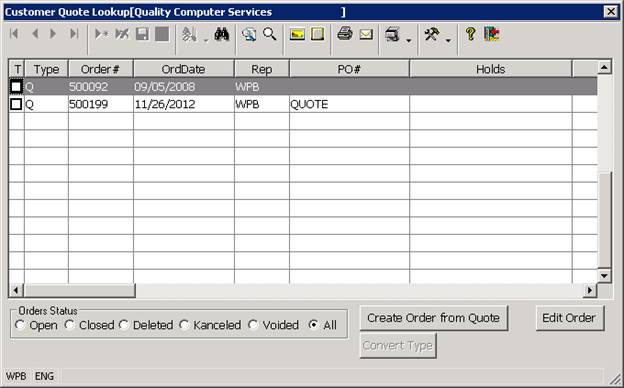 Quotes are Sales Orders that are generated in order to deliver a quotation to a customer. Quotes do not reserve inventory and they do not affect the open balance of the customer that they are created for. A Quote or type Q sales order can be quickly converted to a type S or normal sales order if the customer determines that they actually want you to ship them the goods on the quote. Once a quote has been converted to an order, it is processed like the other type S orders entered into the system.
The Customer Quote Lookup allows you to
• View Detailed Header and Line Item Information for the selected quote.
• Edit open quotes for the selected customer.
• Convert an open Quote to a Sales Order
Selecting the Orders to Be Displayed in the Lookup
The Quotes which are displayed for the selected customer when the Customer Quote Lookup program is activated is based on the Status Radio Buttons that are displayed in the lower section of the program. You may select to display only quotes with the selected status code (or all quotes regardless of the order status code) by using the mouse to select the appropriate status option. Once you have selected the status to display, the system will reload the program based on your selection.
More:

Status Radio Buttons

Zoom - Order Header Detail Panel

Expand - Order Lines Lookup

Edit Order Button

Convert Type Button