AR Check Detail Panel
The AR Check Detail Panel displays detailed information about the selected accounts receivable check record.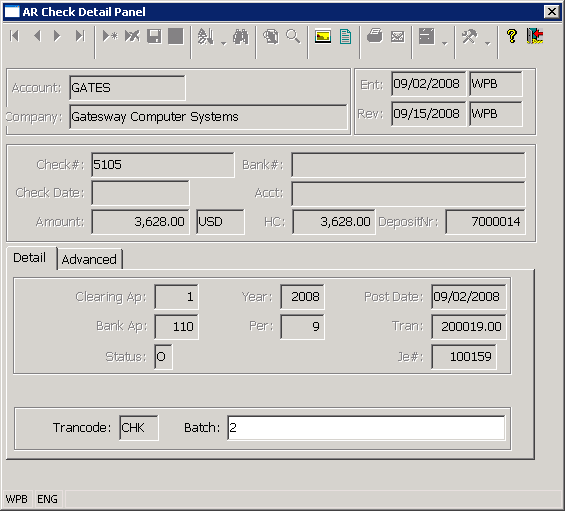 Accounts Receivable Check records are created by the Cash Application program when customer payments are applied to open invoices using the program. An AR Check record is created anytime a payment amount is applied using the program even if the payment is not made by check. Cash, Credit Card, and Wire Transfer Payments will also cause a record to be created for the payment in the AR Check file.
As customer payments are applied, the system creates one AR check record for each customer/check# (or payment number) combination. This AR Check record stores the name of the company making the payment, the total amount of the payment in both the payment and your local currency, and the journal entry number that was used to post the check transaction.
Each AR Check record also stores the batch that was used when applying the payment and information about the cash and the cash clearing account that the check was posted to.
As check records are created in the Cash Application program, the system loads the cash clearing account and the batch fields in the check record based on the values used when applying the customer check.
Once the check has been posted or used to pay the customer invoices, a separate deposit processing program is used to move the amount of the check from the cash clearing account to the actual cash account that received the funds. As each check is deposited, the system loads the Bank Autopost field with the autopost of the cash account that the deposit was posted to, and it loads the Deposit Number field with a unique deposit number to indicate the check has been moved to the bank account.
The AR Check Detail Panel allows you to view the details for the selected AR Check and it also allows you to.
• View or edit any existing image records or comments that have been created for the check.
• Associate a new image record or comment with the check record.
• Access the Cove Field Help system. The AR Check Detail panel contains the Cove Standard Toolbar. The Standard Toolbar contains a Help Button that can be used to display the Cove Field Help System. The Field Help System can be used to display the database definition for each of the fields that are displayed in the AR Check Detail Panel.
More:

Invoices Lookup