ShipTo Address Detail
The ShipTo Address Detail panel is activated from different programs in the system to allow you to view, edit and create ShipTo records. The ShipTo Address Detail program is normally called using the Zoom (view, edit), and the Insert options (create), from the programs it can be accessed from.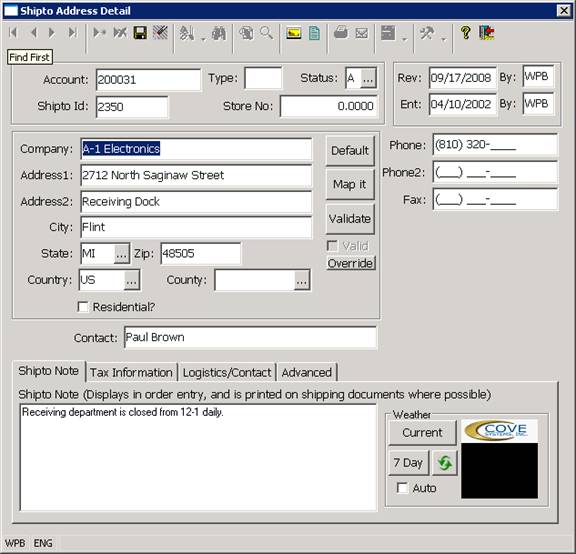 The ShipTo Address Detail program enables you to perform the following actions.
• Enter a New ShipTo Address. Addresses can be defaulted based on the customer address or new addresses can be entered manually.
• View and Edit ShipTo Addresses
• Validate the address information in new and existing ShipTo records, and override the validation service when required.
• Display a map of the selected address.
• View Weather information for the selected address.
Note: Security options (panel, button, and field level security) allow the system administrator to control the options that are available to individual users or groups of users in the program.
The ShipTo Address Detail panel is divided into several sections.
The top section of the program displays basic information about the ShipTo record including the account (normally a customer account number) that the ShipTo record is associated with, the status of the record (active or inactive), the unique id assigned to the ShipTo record, and the store number – if any for the address. The top section also displays information about when and by whom the record was created and last edited. The Account, ShipTo ID and revision information is loaded and maintained by the system and cannot be edited. The Store#, Status and Type can normally be edited (based on system security settings).
The middle section of the ShipTo Address Detail panel displays the address and phone number information for the shipping address, and it contains some buttons that can be used to
• Default address information from the parent (customer) record the ShipTo belongs to,
• Display a map of the address
• Validate the address.
More:

Default Button

Map it Button

Validate Button

Valid Checkbox

Override Button

ShipTo Note Tab Page

Tax Information Tab Page

Logistics/Contact Tab Page

Advanced Tab Page