AR Check Lookup
The AR Check Lookup program displays all of the Accounts Receivable Check records that have been processed on the system.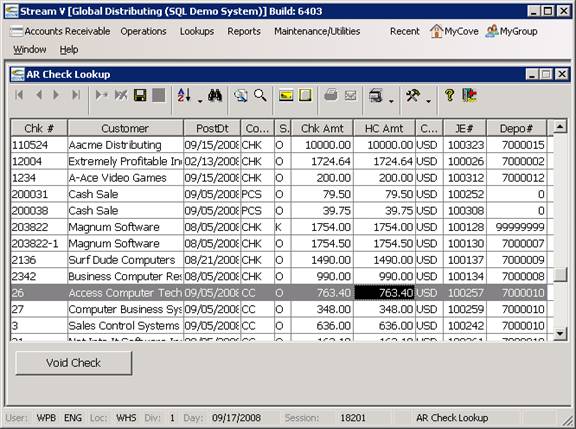 AR check records are created during accounts receivable payment processing. They are used to record each payment (this can be a check, wire, credit card, or even a cash pmt) that is applied to accounts receivable invoices. AR check records are also used during accounts receivable deposit processing.
The AR Check Inquiry program allows you to
• Quickly locate and display customer check records using any of the several display sequences supported by the program.
• View the detailed information that is available for each AR Check record. Each AR Check record stores the customer, payment total, journal entry, and (total amt, company received from, deposit or journal entry number associated with it), and payment distribution information (which invoices and amounts were paid with the payment).
The AR Check Inquiry program can also be used to void checks, to add or view AR check comments, and to view or scan images of payment documents.
More:

Zoom - AR Check Detail Panel

Expand - AR Check Detail Lookup

Void Check Button