PO Line Query
The PO Line Query program is a powerfull SQL query and reporting tool. It allows you to run standard and customized queries against your purcahsing and other related data, and to quickly output the information using several different export and reporting options.
The PO Query program also allows you to acess "drill down" into the details for the purchase order lines and vendors displayed in the program.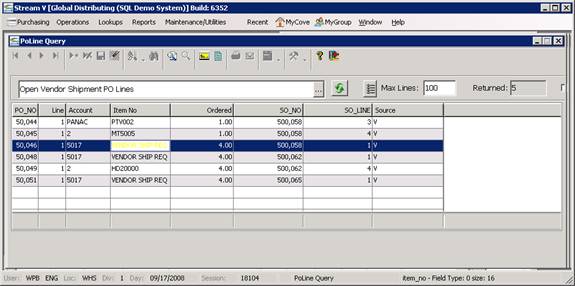 The PO Lines Query program allows you to quickly produce and run queries against your Purchase Order, Vendor and other related data. Standard Query reports are provided in the Query Library, and additional queries can be created and saved from the Query program (again based on security).
The PO Lines Query program is called from the Purchasing Lookups Menu, or user or group menus, and it uses some standard components that are shared by other Query, Lookup and processing programs in the system. This section of the document describes features and options that are specific to the PO Lines Query program.
The following links can be used to access more information about the standard SQL tools and objects used by the PO Query program.
SQL Report Selector
Sql Edit Panel
More:

PO Header Detail

PO Lines

Vendor Detail