Serial Detail Panel
The Serial Detail Panel allows you to view the detailed information that is maintained in each Serial Master record. The Serial Detail Panel also allows you to edit some of the information that is displayed in the program (your ability to edit information is restricted based on security and program restrictions).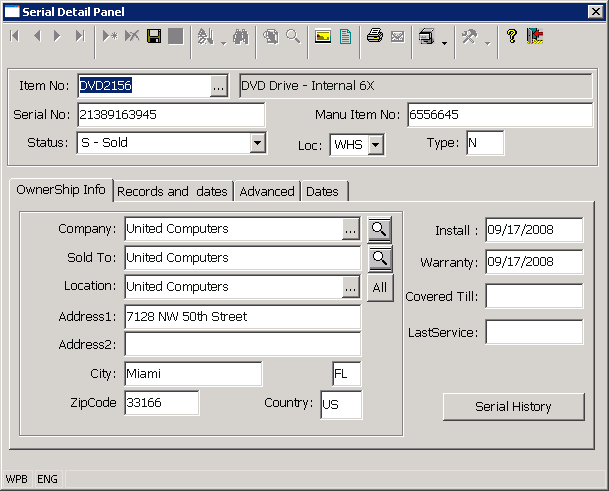 The Serial Detail Panel can be activated from several different programs in StreamV. The Serial Detail panel is available from lookups that display documents (such as purchase orders, invoices and shop orders) associated with serialized inventory items, and it can be accessed from programs that are used to record or process serialized inventory transactions (such the Receiving and the Order Completion programs).
The Serial Detail panel
• Displays comprehensive information about each serialized inventory item
• Allows you to perform limited editing of existing serial records.
• Is used to manually create new serial records when required.
Displaying Serialized Inventory Details
The Serial Detail program displays comprehensive information about each serial record including.
• The current status of the record. The status in each record indicates if the item is available for sale or if the item has been sold, consumed, loaned out, or used in production.
• Purchasing Information: The Serial Detail panel displays the vendor the item was purchased from, the purchase order that was used, and the date the item was received.
• Ownership Information: Information about the current owner of the item, the address the items was last shipped to, and the current physical location of the item.
• Serial History: The Serial History Button allows you to activate the Serial History Lookup which displays the transaction history for the selected serial / item number combination.
Editing Serial Records
• Changing the Serial Status – The Serial Detail panel allows you to update the status of the record when required. The system normally updates the status of each serial record automatically, but the status can be modified manually. The system creates a data change record to record the status change.
• Writing Off Serial Records – The status of a serial record can be changed to X, indicating it has been written off.
• Changing the Serial Number
• Changing the Item Number. -
Creating New Serial Records
More:

Main Section

OwnerShip Info Tab Page

Records and Dates Tab Page

Advanced Tab Page

Dates Tab Page

Serial History Button