Bin Detail Panel
The Bin Detail Panel displays the information that is stored in the selected Bin record.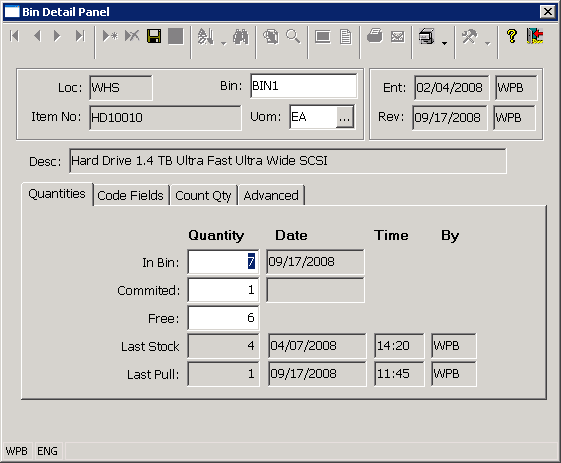 Bin records are used to track the quantity of an inventory item in a specific physical location in a specific warehouse (ie on a specific shelf and row). Multiple bins can be created for a single item in a single warehouse location.
Bin records are used during inventory receiving, when inventory adjustments are processed and when inventory counts are performed. Bins are also used when picking and shipping product to customers and when building items using the Shop Floor System. Please see the overview section of this document for more information about the Bin System.
The Bin Detail Panel is organized into several tab pages which contain groups of related information. Each of these tab pages are briefly described below.
Please note: This section does not describe each of the fields displayed in the Bin Detail Panel. You may access detailed descriptions for each of the fields shown in the Bin Detail Panel using the Help Button that is located on the Standard Toolbar. This help button allows you to access the Cove Field Help Information System. The Field Help Information System contains descriptions of all of the files and fields in the StreamV database.
More:

Main Section

Quantities Tab Page

Code Fields Tab Page

Count Qty Tab Page

Advanced Tab Page