Importing Images - Drag and Drop
The Drag and Drop option allows you to simply drag the file you wish to add to the current record to the Cove Image Import Icon on your Desktop. When you drop a file into the Import Icon, the system displays the following prompt so that you can add the title for the file being imported.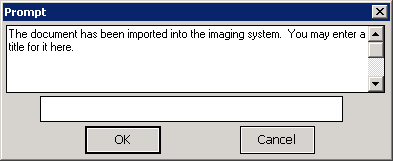 Once you have specified the title for the new image, the system creates the new image record and it displays it in the Images Lookup.
If the Display on Import (Drag and Drop) Checkbox is selected, the system will also display the file being imported (using the windows default program for the file type you are importing).