Serial History Lookup
The Serial History Lookup displays the "serial history" or transaction history for the selected Serialized Inventory record.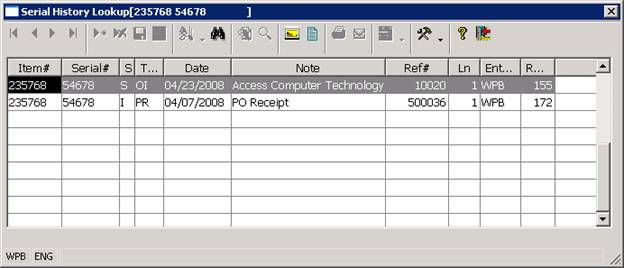 Serial History records are created by the system automatically each time a serialized inventory item is received into inventory, sold or loaned to a customer, adjusted into or out of inventory, or transferred between warehouse locations. Serial History records are also created when items are transferred into, consumed or produced by the shop order system, and when a serial record is manually edited, created, or deleted in the Serial Management program.
When the Serial History Lookup program is activated, it displays the serial history records for the selected serial number in descending sequence, with the most recent transactions for the serialized item showing at the top of the program. The information that is displayed in the lookup for each serial history record can be customized, but it normally includes a reference number (invoice, shop order, purchase order or other transaction number associated with the transaction), the date of the transaction, the transaction type, and a note field that describes the transaction or stores the name of the customer or vendor company that is associated with the transaction. Some serial history records also store a line number that identifies the transaction line associated with the transaction where appropriate.
A description of each of the valid Serial History Transaction Types is presented in the reference section of this document.
More:

Comment Button - Serial History Comment