AP Paydate Management
The AP Paydate Management program displays the open accounts payable invoices in your system. The Paydate Management program is primarily used to manipulate the Pay Date field of your open vendor invoices so that you may schedule them for payment.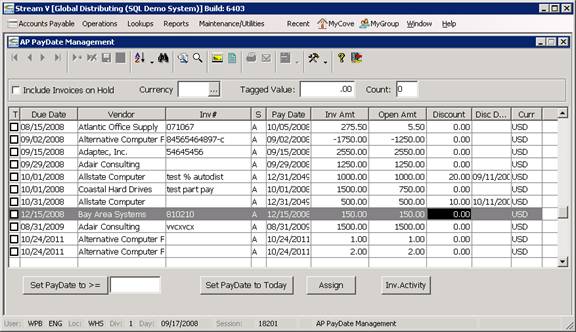 The program allows you to efficiently set the pay date of one or more invoices to the current date or to another desired date as required. The Paydate Management program can also be used to
• Assign an open accounts payable invoice to another vendor for payment
• View detailed information about each accounts payable invoice and how it was distributed to the general ledger.
• View the inventory activity associated with each vendor invoice.
• Include or exclude accounts payable invoices that have been placed on payment hold.
• Filter the displayed invoices based on the invoice currency.
The Paydate Management program allows you display your open accounts payable invoices in Vendor, Pay date or Due Date sequence. The program also allows you to locate a specific open accounts payable invoice by keying in or by using the Search Button to key in the information appropriate to the display sequence that is being used.
More:

Include Invoices on Hold Checkbox

Currency Window

Zoom - AP Invoice Detail Panel

Expand - AP Journal Entry Lookup.

Set Paydate Button

Pay Today Button

Assign Button

Inv. Activity Button