Keyword Search System
To make sales people more efficient and productive, the Product Management system contains a fast and powerful keyword search option . The keyword search option can be used to locate, display, and select items during Sales Order Entry and Point of Sale processing.
The Keyword Search system allows you search for items using specific keywords in addition to using information such as the item number, description, vendor or product line stored in the Catalog record. The Keyword option allows you to find items using search terms that may not be stored in any of the searchable fields in the item, and or that may not be displayed in the standard inventory lookup programs.
A "keyword" is defined is any word or number that exists in selected fields in a Catalog record (or in some other data records that are associated with the Catalog record for the item).
The Keyword system uses the Catalog fields in each item and other information related to each item to build a "keyword" and a wordlist table, and these tables allows operators to search for all of the items containing or pointing to a specific keyword during order and invoice processing
Once the Keyword data files have been loaded, and the operator initiates a keyword search, the system searches through the keywords and it produces a list of all of the items containing the keyword or keywords that are specified by the operator. The operator can then select the appropriate item from the list or initiate a new search.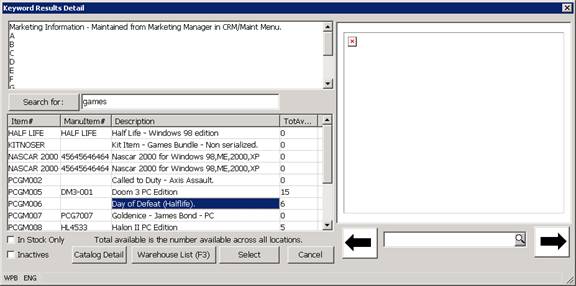 This document provides an overview of how the Keyword Search System is loaded and maintained. For more information about using the Keyword search option during Order processing and POS transaction processing, please refer to the documentation for those systems.
More:

Keyword Information Storage

Keyword Control Records

Keyword Files

Keyword Searching

Extended Keyword Information by Item