Purchase Order Management
The Purchase Order Management Program displays all of the open and closed purchase orders that have been created on your system.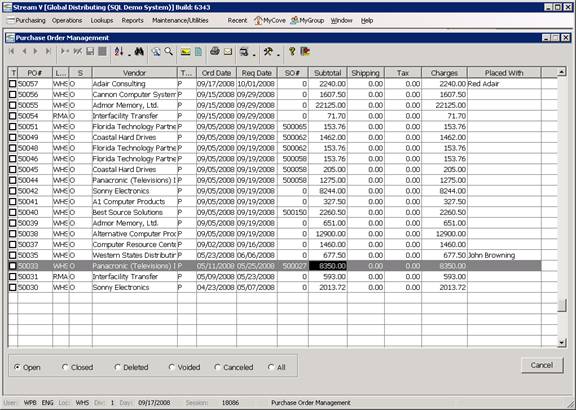 The Purchase Order Management program also allows you to
• View detailed purchase order header and line item information.
• Edit existing open purchase orders
• View detailed information about any sales order that the selected PO is associated with.
• Invoice open Vendor Shipment Orders. This action creates an invoice for the customer receiving the shipment, and a liability in the system for the items delivered by the vendor.
• View and Edit the vendor information for the vendor associated with the selected purchase order.
More:

Display and Search Sequences

PO Status Radio Buttons

Zoom - Purchase Order Header Detail Panel

Expand - PO Lines Lookup

Edit PO

Invoice Vendor Shipment

Open a Closed PO

Vendor Detail

Sales Order Detail

Receiving Comment

Receipts against this PO

AIC Comment

Vendor Ship Comment